Mophie iPhone Space Pack – nice idea, let down by iOS
Tweet
Mophie aimed high with its combo battery and extra storage pack, but Apple's restrictions simply don't let it work the way it should.
• This article was written by Alex Hern for The Guardian and first published on 24 March 2014
---
Mophie's new Space Pack attempts to add something new to the battery packs the company is famous for, but the praiseworthy concept is rendered nearly useless by restrictions built in to the software of iPhones. It offers not just juice, but storage. Nice idea – but it doesn't really work.
Mophie already offers a panoply of ways to provide extra battery power to your smartphones. Its flagship Juice Packs bulk up the size of an iPhone, Samsung Galaxy or HTC One while providing up to twice the battery life, while the Powerstation range offers a universal charger for those who don't need a phone-specific case.
All of the hardware shares the downside that extra battery packs are bulky and heavy, but if you can put up with that trade-off, it can be a lifesaver.
Design
The Space Pack hardware looks just like Mophie's standard Juice Pack range. In essence, it's a (very) chunky case for your iPhone 5 or 5S. As you slide the phone in, a lightning connector plugs into the socket, connecting it to the power and storage, while a micro-USB slot underneath takes over external charging and syncing duties.
As a case, it's good enough, though there's no doubting which out of Apple and Mophie has the world-class industrial designers. If you're used to carrying your phone with no case, you'll soon start pining for the sleek finish of a naked iPhone.

A wide aperture allows the camera lens and flash to poke through the back, while pass-through buttons handle the volume, mute and power switches. All work well, which is more than can be said for the headphone jack: situated at the bottom of the phone, the case creates a long tunnel between the port and the outside world. That's fine if your headphones have a thin, straight plug, but if it's a bit chunkier, or has a right-angle turn, you'll have to use the (included) ungainly adapter instead.
It's reminiscent of the first generation iPhone, which had a thin headphone port that could only take Apple headphones. That was fixed by the following year's iPhone 3G, so it's a shame to see an accessory maker fall into the same trap.
Case or no case?
Beyond that, whether the design of the Space Pack works for you is ultimately down to personal preference.
Having used it for two weeks, I've fallen into a pattern: charge the Space Pack overnight with my phone in it, use a different, slender case throughout the day while carrying the Pack in my bag, and then slot the phone in if it starts to run out of power before the end of the day. The problem is that if your phone isn't running low on power, the Space Pack is just too bulky to comfortably carry in a pocket.
That means I ended up carrying two cases around, and using the Space Pack as though it were one of Mophie's cheaper, more powerful, Powerstation battery packs. Those are simply small power bricks that plug into any USB-powered device to charge them.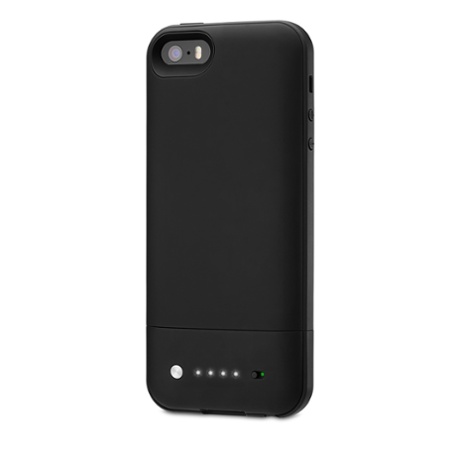 But it's easy to see why others would like it. If the phone is permanently plugged in to the Space Pack, then you never need to worry about battery life; it automatically drip charges it until the pack is empty, and then the phone's battery will still give you another few hours. For some, that may be worth almost doubling the iPhone's weight, and spoiling the sleek design.
Features: store this
With 1,700mAh of power, the Space Pack's battery should double the life of your phone (the 5S has a 1,570mAh battery, the 5C 1,500mAh, the iPhone 5 1,440mAh). But its real selling point isn't the battery life, though. Which is good, because the Mophie Juice Pack Air has the same battery life for £30 less.
Instead, it's storage space.
The pack comes in a 16GB and 32GB flavour (the latter is just £10 more), and lets you store photos, videos, music and other files directly on to the pack itself. For those with an older 8GB iPhone – or simply a massive music collection – that could be a lifesaver.
But the problem is that unlike Google with Android, Apple has never been particularly interested in providing developers with the tools to handle external storage. As a result, almost all of the interaction with the storage space has to be done through Mophie's own Space app.
So if you've already taken a few photos, you can store them on the Mophie Space by opening up the app, selecting Sync, and moving them on to the Space. You then have to open Apple's Photos app to delete them from your phone's storage itself.
From the Space app, you can send the photos to a few other apps that support Apple's "open in…" API, including WhatsApp, Dropbox, Google Drive and Tumblr. But if the app doesn't support your desired service – and that's a fair few noteworthy services, including Instagram, Flickr, and Whisper – then you have to move the photo back off the Space and into your phone's camera roll before you can interact with it.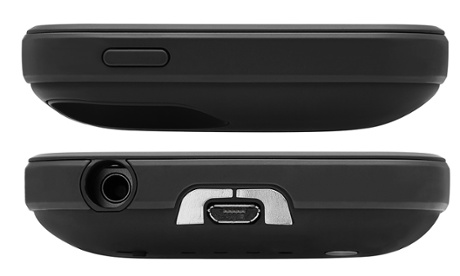 Some of those steps can be avoided by using the Space app's own camera function, which automatically saves images on to the pack. But then you lose the Apple camera's filters and HDR mode, and you still need to export it back onto the phone if you want to use it in most social apps.
A similar story applies to music: you can sync songs onto the device as though it were a USB memory stick, and play them in the background. But you have to move over wholesale, because you can't use the Space app to play songs stored on your phone, and you can't use your phone's Music app to play songs stored on the Space Pack.
And the Space Pack does nothing to help you if you're running out of space because you've installed too many apps, or one of those apps needs to store its own files (say, a magazine or comic reader). Those have to be on the iPhone's built-in memory.
None of this is Mophie's fault: these rules are set by Apple, and the accessory maker is coping as best it can in the rigid framework. But regardless of whose fault it is, the outcome is that very few people will find themselves using the storage on a regular basis at all.
Verdict
There are conceivable use cases. If you're someone who takes a lot of photos with your phone, rarely syncs it with a computer, and doesn't do much with them other than tweet them, email them or send them to Facebook, then the Space Pack might fit in your life, especially if you need extra battery life.
But for nearly everyone else, the few times you would use the storage space simply aren't worth the £30 difference between these Space Pack and the otherwise identical Juice Pack Air. Buy that, or an external battery pack, instead.
Pros: Massive battery increase; storage space might come in handy; case protects phone from knocks
Cons: £30 more for a feature you probably won't use; doesn't take many headphones; massive
Stay Smart | subscribe to our weekly newsletter
<!- Guardian Select: Technology & Media Tag Begins - Leaderboard BTF -> <!- Guardian Select: Technology & Media Tag Ends - Leaderboard BTF -> UA-28085005-1